About Me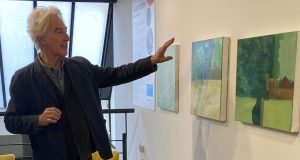 I am an artist and academic. My last academic role was as Head of the Department of Fine Art University of Chichester. I led in the delivery of the  BA undergraduate and MA postgraduate programmes of study. Together with the day to day responsibilities as HoD  I taught across all studio based activity and was in charge of the critical theory, historical and contextual strands of these programmes. I have held teaching posts in various UK  art colleges and universities.   I have been an external examiner at UK Universities and as a member of degree review and approval panels for The Open University.  My teaching career began at Nelson and Colne College in 1973.
My  studio production encompasses a range of activities across different media whilst retaining a strong focus on painting.  Much of my artwork is concerned with the notion of 'displacement', a research theme that I have been engaged with across theoretical debates and material practices including painting, improvised music, performance, and installation.
Connections between philosophical ideas and material practices have been at the forefront of my role as an educator. The need for artists to have a vibrant and challenging 'critical practice' has always seemed essential in enabling individuals to develop a position within contemporary cultural production. The symbiosis between practical studio-based activity and the broad fields of the history of art and critical theory is key in enabling an indivisible unity between creativity and interpretative dialogue.
On a more practical level. . . . This site is an on-going affair! There is always more to add and more to do. . . please keep calling in there will be changes all the time as I refine and add.